Some of the links in this post are affiliate links. This means if you click on the link and purchase the item, I will receive an affiliate commission at no extra cost to you. All opinions remain my own.
Making the best resolutions for the New Year always starts with knowing I need to eat better. So I feel great knowing my newest goals can start with this tasty Weight Watchers Deli Crab Salad.
A plate full of flavor, there won't be any imitation on how much you're going love it too!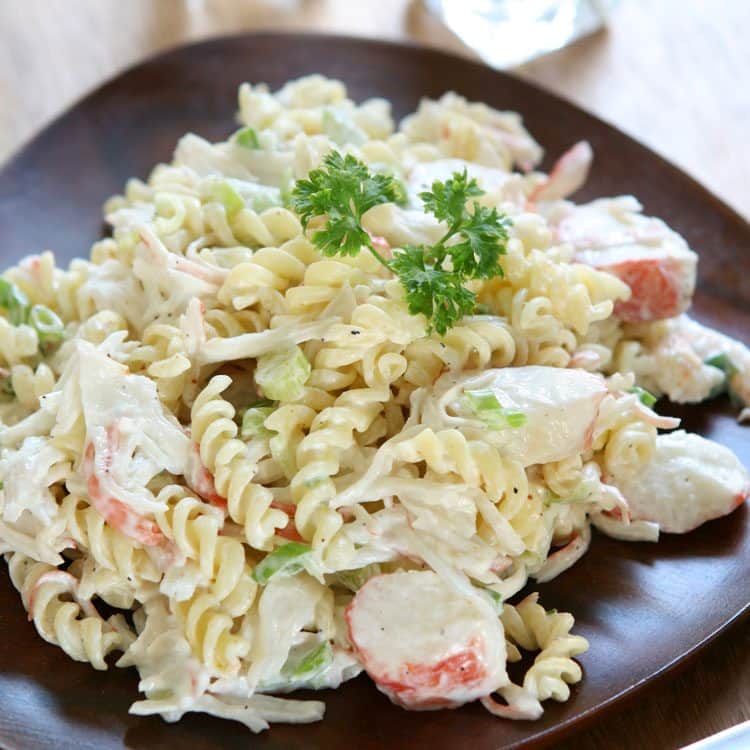 START THE NEW YEAR WITH WEIGHT WATCHERS
To begin, this recipe can get even easier having the fully cooked crab meat shipped right to you.
I know I prefer ordering groceries delivered in bulk as it saves me a lot of time. Especially when I utilize the new Amazon dash button for reordering my favorite pantry staples!
LOSING WEIGHT NEVER TASTED SO GREAT
Another wonderful reason this Deli Crab Salad is perfect for your New Years plate? The taste of course!
Tossed with just the right amount of creamy light mayo and sour cream, your taste buds will relish how well the crab meat combines with the pasta noodles and chopped green onions.
Not an onion fan? Just substitute chives for a more mellow flavor.
But we're not done yet. Next you'll be adding up to a teaspoon of mustard; a dash of onion powder (especially great if you've used chives); and salt and pepper to taste.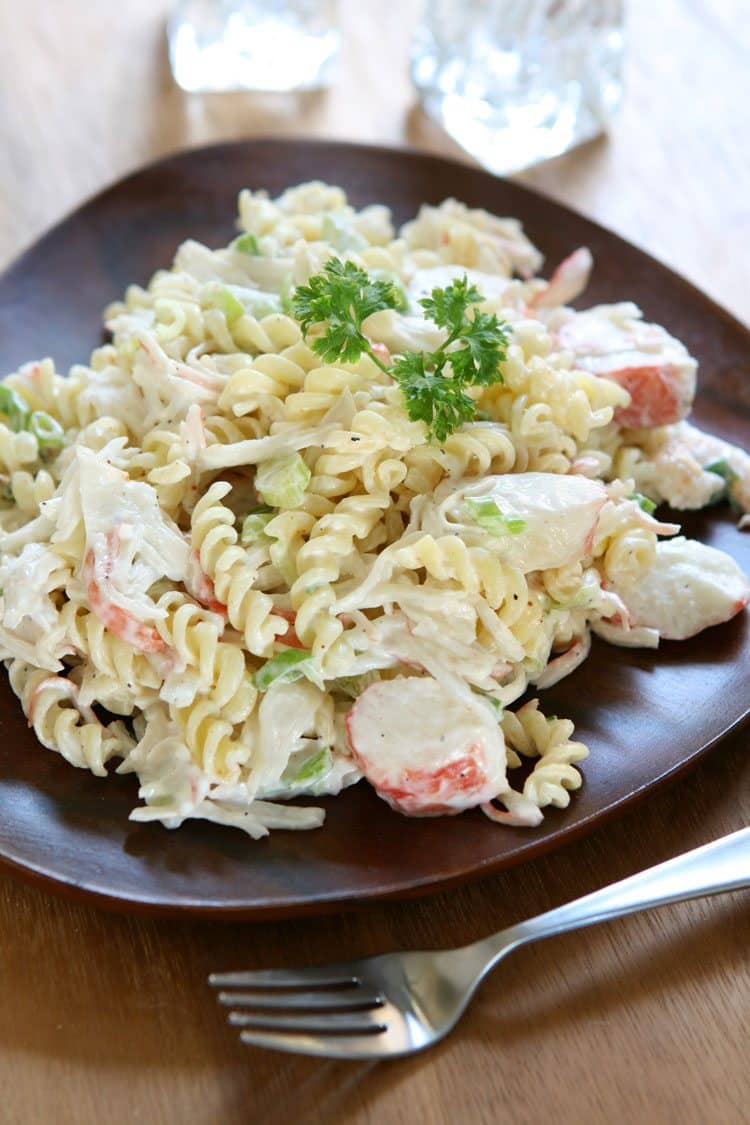 Combined, I prefer to leave this pasta salad overnight in the refrigerator so the flavors can blend. It's also wonderful to add celery if I'm craving a bit more crunch.
And plated over lettuce leaves, this looks so fancy you'll never realize you're even counting points!
TASTY WAYS TO CELEBRATE THE CHINESE NEW YEAR
And don't forget that Father Time doesn't only bring the celebration on January 1st!
You can make this Weight Watchers Deli Crab Salad to celebrate the Chinese New Year on January 28th as well! Looking for even more great Asian inspired culinary adventures?
Then think about cooking up this tasty Asian Rice Bowl or Gluten Free Chicken Fried Rice. Because while your resolutions may need to be narrowed down, we've got your plate covered!
Tips: Try Lemon Mayonnaise, which is kind of spicy, to add more zip. You could also use a sharp mustard.
Get the latest scoop on all the recipes I'm whipping up in the kitchen by following along with All She Cooks on Facebook, Instagram, and Pinterest. Also, don't forget to join my Facebook Group where you can share your favorite blogger recipes: Easy & Delicious Recipes.
Have you tried this recipe? Don't forget to Rate This Recipe below. While you're at it, share a picture on Instagram with #allshecooks so we can see how your recipe turned out!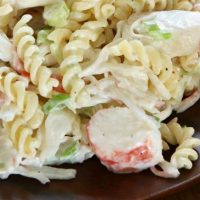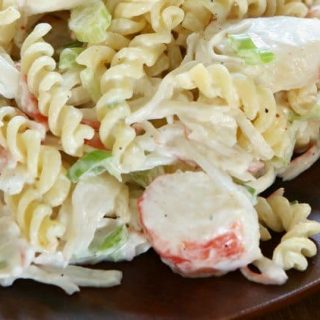 Weight Watchers Deli Crab Salad
Prep Time:
3 hours
15 minutes
Total Time:
3 hours
15 minutes
Weight Watchers Deli Crab Salad is a healthy dinner recipe just in time for your weight loss goals. Meet your resolutions this year.
Ingredients
6 ounces imitation crab meat
2 tablespoons light mayo
Chopped green onion or chives
1/2 to 1 teaspoon mustard
1/4 cup fat free sour cream
onion powder (to taste)
salt and pepper (to taste)
1 cup cooked macaroni noodles
Instructions
Cook noodles and measure out 1 cup. Run cold water over the noodles to chill them. Mix the shredded or diced crab pieces with the pasta. Mix in green onions or chives. In a separate bowl, mix remaining ingredients. Pour sauce over pasta mixture and stir well. Put it in the fridge for a few hours or overnight to let the flavors blend.
Makes 2 big servings, 5 POINTS each
Get More Weight Watchers Recipes
Weight Watchers Chili | Get a lower calorie chili that gives the classic comfort food flavor you love, with less guilt.
Weight Watchers Meatballs| Can you say lower fat meatballs? Switch up the meat you grab for in the grocery store!
Weight Watchers Taco Soup | Load this soup up with tons of veggies for even more of a health kick.
Weight Watchers Garlic Mashed Potatoes | There's just something about garlic. And if you love garlic, you're going to adore this recipe.
Weight Watchers Banana Bread | This is a fun take on banana and pumpkin bread, and combines two of our favorites.
Weight Watchers Hash Brown Casserole | One of my very favorites. This is a serious comfort food meal.
Weight Watchers Key Lime Bars | If you like dessert, these simple and delicious bars will be a treat.
Weight Watchers Peach Cobbler | This cobbler is so amazing! Feel free to swap out the peaches for other fruits or berries.
Weight Watchers Chicken Pot Pie | A meal like no other. You simply can't have chicken pot pie without feeling savoring each and every bite.
Weight Watchers Pumpkin Pie | One of our most popular recipes– yes, you can have pumpkin pie on a Weight Watchers diet!
Weight Watchers Mac and Cheese | For the love of mac & cheese recipes! Calling all cheese lovers, this one's for you. It's a quick and easy solution for all your mac and cheese cravings.
Weight Watchers 1 point Brownies | Who says you can't have a brownie on a diet? We say you can!
Weight Watchers Cheese Biscuits | If you like Red Lobster biscuits, you'll get the general idea of these delicious treats.
Weight Watchers Deli Crab Salad | This salad makes a great lunch or dinner.
Weight Watchers Cheese Lasagna | Pasta on a diet? Yes, please! And cheese on top of that?
Weight Watchers Meatloaf | This is one of my very favorite meatloaf recipes. I love that I can mix up a tasty lower-calorie meatloaf.
Weight Watcher Chicken Teriyaki | If you love chicken teriyaki, this recipe is for you. Hands down, one of the best low-cal chicken recipes I've had.